Non Destructive Testing
Simulation and Methodology
EXTENDE News - May 2019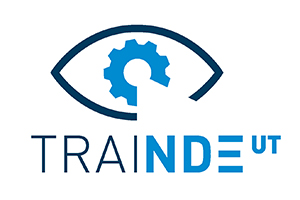 TraiNDE UT, an innovative tool for the training of NDT operators
EXTENDE is pleased to introduce the first product of its new TraiNDE line: TraiNDE UT!

TraiNDE UT is a manual Ultrasonic Testing simulator that helps trainers teach operators on Ultrasonic Testing. It reproduces real inspection conditions for a number of applications. Trainers will be able to deliver clearer information using its educational functionalities with real examples.

The dynamic displays and probe handling mimic real inspection behaviors: the operator handles a dummy probe on the digital mockup. Its position and skew are located on the block, and the related signal is displayed on the digital UT device in real time!

Discover TraiNDE UT now through its dedicated website!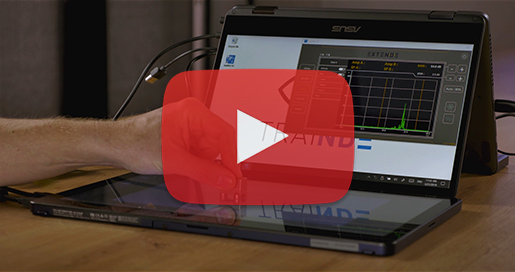 Developing TraiNDE in Nouvelle-Aquitaine

Designed and produced in our Pessac premises (near Bordeaux), the TraiNDE project is supported by the Nouvelle-Aquitaine French region. In October 2018, its President, Mr. Alain Rousset, did us the honor to attend the inauguration of the TraiNDE prototype. You can check out the video going back over this milestone in the development of TraiNDE.
TraiNDE UT early access feedback

Patrick Pichard and Bernard Trehorel had an early access to TraiNDE UT, and we are pleased to share their first impressions with you!

If you are interested in knowing why they deemed this new product to be "quick to learn, practical", and "a perfectly realistic testing simulation software", head to our website to read their complete feedback from early access.
Interview of Benoit Puel

Mr. Benoit Puel, you joined the EXTENDE team as head of the TraiNDE project.

Could you tell us what it is about?
Let me introduce the context first. TraiNDE is a new brand of products developed by EXTENDE, with the support of Région Nouvelle Aquitaine (South-West of France), through the FACINA project. [...] Read more
Invited paper about MUSCAD French national research project

Philippe Guy, associate professor at INSA Lyon (France), presented at the 2018 JSNDI (Japanese Society for Non-Destructive Inspection) Workshop the scope and some of the work performed in the frame of the MUSCAD national research project (ANR). This project is dedicated to "ultrasound methods for the characterization of nuclear component materials for diagnostic improvement" and performed in collaboration with CEA LIST, EDF R&D, LMA, and EXTENDE. You can find his presentation, entitled "Realistic modeling of austenitic welds ultrasonic inspection", in our library.
Using Metamodels to build POD curves in CIVA

Beyond simulation models, the use of a metamodel, in other words "a model of the model", can be really useful when there is a need to generate a very large amount of data. It can be particularly helpful for sensitivity analysis or POD (Probability Of Detection) studies. Discover how CIVA software can help you build POD curves with Metamodels in this short video.
EXTENDE
14 Avenue Carnot
91300 Massy - France
contact[a]extende.com
EXTENDE Inc.
PO BOX 41114
VA 23541 - USA
contactus[a]extende.com
License