21st November, 2013

Established in the year 1972 at Pune (Maharashtra, India), Technofour is engaged in manufacturing, importing, exporting and supplying a comprehensive assortment of Industrial NDT Products.
Mr. Uday Godbole was at this year's APCNDT conference, where we had the chance to talk to him.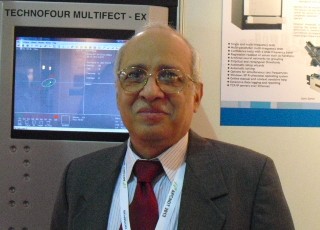 What is your role at Technofour?
I am the founder and director of the company. I am in charge of all of R&D.
Which kind of techniques do you use?
ET (that is where we started in 1972), MT (flux leakage), and now UT. We also do Barkhausen.
When did you start using CIVA?
I started with version 8. I met Mr. Philippe Benoist in Hyderabad, where we discussed about the price because we are a small company, and at this the time, we just bought the ET module.
What convinced you to use simulation?
We were doing experiments and trials with sensors to see how it worked if we changed a little thing. Thanks to CIVA, we gain time and got better results.
What is your favorite tool in CIVA?
Initially, remote field capability was not included in CIVA, so I was glad when it has been upgraded in version 9 or 10. It was useful.
Which benefits did you gain out of it?
It helps you choose the right probe. You can eventually find the optimum probe.
How did you find this APCNDT conference?
We do attend the APCNDT and WCNDT conferences as well, and I met CIVA people everywhere.