5th July, 2013

Dr. Elena Jasiuniene works at the Ultrasound Institute, which represents the majority of ultrasonic research groups at Kaunas University of Technology, Lithuania. The ultrasound research in Kaunas University of Technology is counting more than 50 years of activity. Ultrasound research activities were initiated by prof. Baršauskas in 1960 by founding the Ultrasound Laboratory. The Institute has two laboratories: the Laboratory of Measurement Techniques and the Sonar Laboratory. The full-time academic and research staff of 17 employees includes 15 scientists (1 doctor habilitatus and 11 doctors).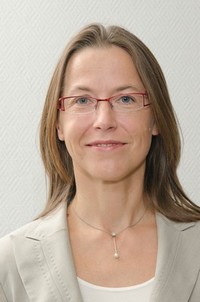 You are doing some research at Kaunas University of Technology, at the Ultrasound Institute. On which projects are you working at the moment?
We are involved in many projects concerning various applications of ultrasonic techniques for space research, nuclear plants, aerospace industry, monitoring of various manufacturing processes, development of non-destructive testing techniques for composite materials, journal and sleeve bearings, components used at nuclear plants, medical applications, etc. The research activity is performed to orders and contracts with Lithuanian and foreign companies, also in cooperation with other Lithuanian and foreign scientific research institutions. The Ultrasound Institute has participated and is still participating in international projects sponsored by EC, FP5, FP6, FP7, Eurostars…
Why did you decide to use simulation?
Simulation helps to choose the right configuration for the testing of different samples (the frequency of the transducer, its position, etc.). So usually, first of all, the simulations are performed when the most appropriate testing configuration has to be chosen for a specific task.
When did you hear about it for the first time, and how?
Actually, it was already a long time ago – when I started to work at Ultrasound Institute, one of the first versions of CIVA was available…
How does it help you in your projects?
CIVA helps to find suitable testing configuration (type of transducer, frequency, position, etc.) for the different applications of ultrasonic waves.

You may use CIVA to illustrate some of your classes; how do students react when discovering CIVA's tool?
Students find CIVA easy to use. It helps to visualize how ultrasonic waves are propagating in the different samples, and how they interact with different defects.
Do you know the main new features of CIVA 11? Which one are you are you most waiting for?
From the new features of CIVA, I am most looking forward to these two features: the possibility to use 3D CAD heterogeneous specimens, and the computation of interior specular interface echoes in multi layered configurations.