10th March 2015
It is with great pleasure that we share with you today the testimony of Olga Petrova, Commercial Director at Locus Ltd., distributor of CIVA in Russia. We had the honor of spending our time at the NDT Territory conference, which was held this month in Moscow, in her company.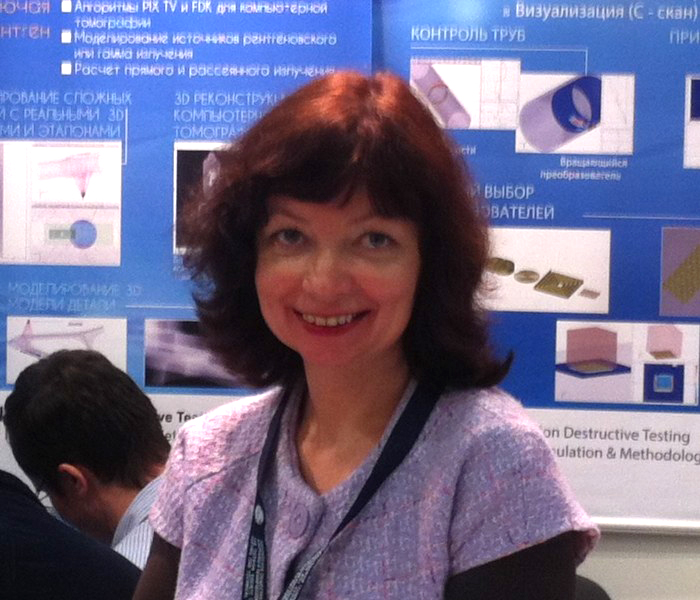 Dear Ms. Olga Petrova, you are commercial director at Locus Ltd.. Can you briefly present your company to us?
"Locus" Ltd. was established in 2011 in St. Petersburg, Russia, and specializes in equipment supply and complex solutions and services in non-destructive testing (UT, RT, MT, PT, and now also Simulation for NDT), and additionally in technological equipment for surface treatment. "Locus" Ltd. has qualified personnel from technical, scientific and marketing areas, currently 9 persons (among them 2 persons UT + ET, and 2 persons X-ray, including a PhD in X-ray). Previously, all of us have worked in NDT for other companies and have experience in this sphere. Our company is successfully developing and working with different Russian and international enterprises, which enables us to implement complex projects for the Russian industry. We propose NDT solutions for different methods – UT, X-ray, ET, MP and PI. We distribute UT automatic systems and instruments produced by Tecnatom and Metalscan, X-ray units, tubes and generators from Comet (Switzerland), X-ray real-time systems by VisiConsult (Germany), MP and PT equipment by ATG. We also work with manufacturers of technological equipment (Galatek, ESA Plating).
Since September 2014, you are a distributor of CIVA software in Russia. How did you hear about this product, and what convinced you to take care of its distribution?
We have found about CIVA from Tecnatom, as CIVA is an integrated platform in the UT software of Tecnatom / M2M, and our engineers already used the CIVA reduced application for UT intergrated in Tecnatom / M2M / Metalscan products. We estimated that it can be a very powerful and useful tool for NDT, and can be very helpful and a perspective of product for some of our customers. It also widens our scope of supply and increases the proficiency of our engineers in the NDT sphere.
In your opinion, how many percent of the NDT market in Russia uses simulation?
Currently, we estimate that no more than 1% of the enterprises and companies involved in the NDT sphere are using simulation (this is including some specialized local Russian software devoted to separate NDT methods (UT, RT)). We think that this will be increasing in the future, and one of the reasons for that is the change of some internal standards for some industry branches, like aviation, for example, in terms of calculation and modeling of the life cycle of the product.
Why do you think CIVA could convince the users?
It would be helpful to have in CIVA, in order to persuade customers to use it:
A possibility to export the simulation results in the most used software packages dedicated to strength analysis, but not in *.txt format! *.txt format is not serious...
At some point add some more modules (like thermography, shearography etc.), with the perspective to cover all the NDT line
A demo version of the software with limited possibilities (when the time is limited to one month for example, and some functions are deactivated), but so that the potential customers could try and see how CIVA can be helpful in their work, and video files with some basic instructions on how to use the demo version
Maybe the possibility to choose the language (also have Russian) in the software
A detailed manual with a description of each function (for some users it would be very helpful, because even after the training not everybody will be able to use it in a complete way; and also in a training the restriction is the language, for Russia it is quite essential because specialists seldom speak English)