16th January 2023
Today, we have the honor of sharing with you a few words from Peter Juarez, researcher at the NASA Langley Research center, about his work in NDE.
This discussion is intended to provide information on NASA activities and potential applications of nondestructive evaluation software. No official NASA endorsement is intended or implied, and NASA makes no warranties or representations concerning any products or their fitness for any particular use.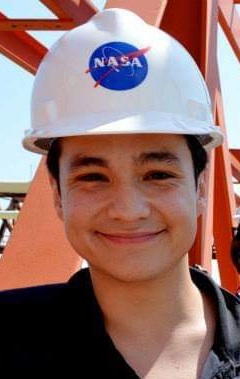 Dear Peter, you are a researcher at the NASA Langley Research center, please describe the main activities and research topics related to NDT at the center.
The branch I work at, the Nondestructive Evaluation Sciences Branch (NESB) is the only NDT research branch in the agency. We have leading experts in many fields of NDT, and our works include everything from fundamental research to solving unique NDT challenges within NASA or industry. As you can expect, nearly all of our work concerns aerospace in one form or another, but we've had experience in others such as the automotive industry. Our goal is to generate research and innovation that can enhance NASA's mission and the aerospace industry.
Can you describe your own role and your main research topic at the lab?
I'm a research engineer, so my time is split up between hands on lab work and research/development. I'm working on a bunch of topics right now, but what takes up most my time is computational simulation of NDE and the concept of design for inspectability. Other topics include innovating new ways to generate defect standards for composite structures, and in situ inspection of automated fiber placement manufacturing.
For which kind of projects have you recently used CIVA? Do you use it often, and how does it help you?
I find myself using it more and more often. CIVA played a big role in our development of an Inspectability Metric as part of our design for inspectability task. Recently, I used it as part of a model assisted POD (MAPOD) activity where I modeled the UT inspection of friction stir welds and used those simulations to augment an existing POD study. In the past, CIVA has helped me develop inspection methods for difficult inspection scenarios, such as welds on layered pressure vessels. I also have work involving the International Space Station coming up, so I'll be excited to talk about that when the time comes.
Do you also use other modelling, analysis, or processing tools? If so, is it important for you to be able to take data from one tool and import it into other ones?
Yes, always. I've never encountered an import/export feature in any software that made me think "well that was unnecessary". Interoperability opens the doors to new possibilities that we didn't even know we needed, so in my opinion, the more the better. I often like to play with data in the Python environment or ImageJ, but I've also seen interest in exporting NDE data into FEM models for remaining life calculations.
Could you describe the main advantages of CIVA for your NDT simulation needs? Which main improvements would you expect from the software in the future?
I find that the main advantage with CIVA specifically is the GUI, which makes it easy to quickly set up and iterate on an inspection simulation. It also has a large number of parameters that I can set from within the GUI to match the real-life inspection. In the future, I'd like to see more options for structures in the composite module, and perhaps the ability to port models from one modality to the other. Also, auto save after the simulation is finished is a must.
Have you or will you use modelling tools for POD studies (MAPOD)? Have you heard about the "Reliability in NDE" training offered by EXTENDE, and do you think it could be interesting for you to go further on this topic?
I have used MAPOD tools before and am interested in the training offered by Extende. I'm currently communicating with one of your representatives about that via email.