07th September 2015
Ms. Erica Schumacher, Vice President of EXTENDE Inc., had the opportunity to ask Dr. Wesley J. Keller from Lehigh University about his feedback on his work in NDT, and with CIVA in particular.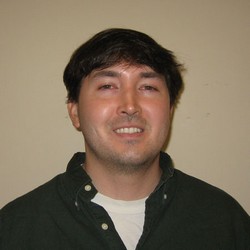 Dr. Keller, What is your role at Lehigh University?
Postdoctoral Research Associate at the Center for Advanced Technology for Large Structural Systems (ATLSS).
For how long have you been using simulation (and CIVA in particular)?
We rely heavily on numerical simulation for the evaluation of conceptual designs, and for probing fundamental behavior through parametric studies that would be impractical with physical experimentation. We have used CIVA RT extensively over the past two years as a research tool for optimizing radiographic inspection methods for post-tensioned concrete construction.
What convinced you to use such a tool?
CIVA RT is user friendly and readily adaptable to our research needs. Our project involves composite structures with complex geometries and heterogeneous materials, which we can model in CIVA RT with relative ease. It is also straightforward to implement new models in CIVA RT for materials, emission sources, and detectors based on experimental data, which allows us to develop realistic virtual radiography simulations.
As part of our FHWA project, we performed an experimental validation study to evaluate the application of CIVA RT to cementitious materials (e.g. concrete and cementitious grout). We found excellent correlation between the experimental data and the numerical predictions from the CIVA RT simulations, which gave us confidence in our use of virtual radiography as a research tool. The validation study was recently accepted to the Journal of Nondestructive Evaluation.
What advantages does it bring to you?
CIVA RT enables us to perform robust parametric studies that would be virtually impossible to complete with experimental testing, due to the costs and time associated with developing and imaging physical specimens. Using this virtual radiography tool, we are able to evaluate a broader test matrix and accelerate the research plan.
How has simulation also been useful in the classroom?
We are using data from our CIVA RT simulations to develop instructional material for a graduate course on Condition Assessment of Existing Structures. The virtual radiography simulations are extremely useful in teaching the physics of radiography as well as the practical issues associated with radiographic inspection.